ARE YOU READY TO LOSE 10 KG ?
The revolutionary new way of shaping up
Toned & Fit Body In 20 Minutes Once A Week

3 months of Body & Mind transformation. Get the advantage of a tailored Workout plan with own personal trainer. changing Minds, Bodies & lives forever!
The Fast Fit 10KG Plan includes:
20 Min EMS Training = 4 hours of conventional workout

Lose weight & get in shape.

Train with an EMS certified personal trainer.

Get a customised nutrition plan.

Fitness Goal setting

Body analysis

Training gear

Fitness band tracker

 up to 8 Free sessions after you finish your subscription to keep your fitness level elevated and your body in shape!
register YOUR INTREST AND WE WILL CALL YOU BACK TO EXPLAIN THE WORKOUT AND BOOK YOUR FIRST SESSION
199 SR instead of 249 SR When you Buy your Introductory session online now
You will be contacted within 24 hours to schedule the introductory session with your personal trainer.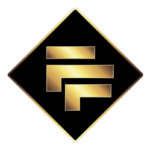 No more excuses to get your dream body with Fast fit!
What is Fast Fit EMS?​
Electro Muscle Stimulation (EMS) uses electric impulses to stimulate muscle contraction. Your EMS experience starts from the moment you arrive at our studio. First, we will give you a special EMS suit with padded electrodes that are placed on different muscle groups of your body. Once you're suited up, you'll start doing different exercises that your trainer designed for you and you will feel the contraction of deep muscles like you've never experienced before. Using high-end, next-generation wireless EMS devices, you won't feel constrained instead you'll have more freedom and a bigger range of motion during your exercise.
How Fast Fit EMS Works?
When you work out at the gym your brain sends impulses to your muscles to contract them so you can make any movement you want. EMS uses impulses identical to those of your brain. But unlike regular gym sessions, EMS makes these natural contractions much more effective by sending impulses to all of your muscles at once. So Imagine if instead of having a separate leg, chest, ab and arm days at the gym, you can work all of that effectively at the exact same time for only 20 minutes. That's exactly what EMS does!
MEMBER Reviews & TESTIMONIALS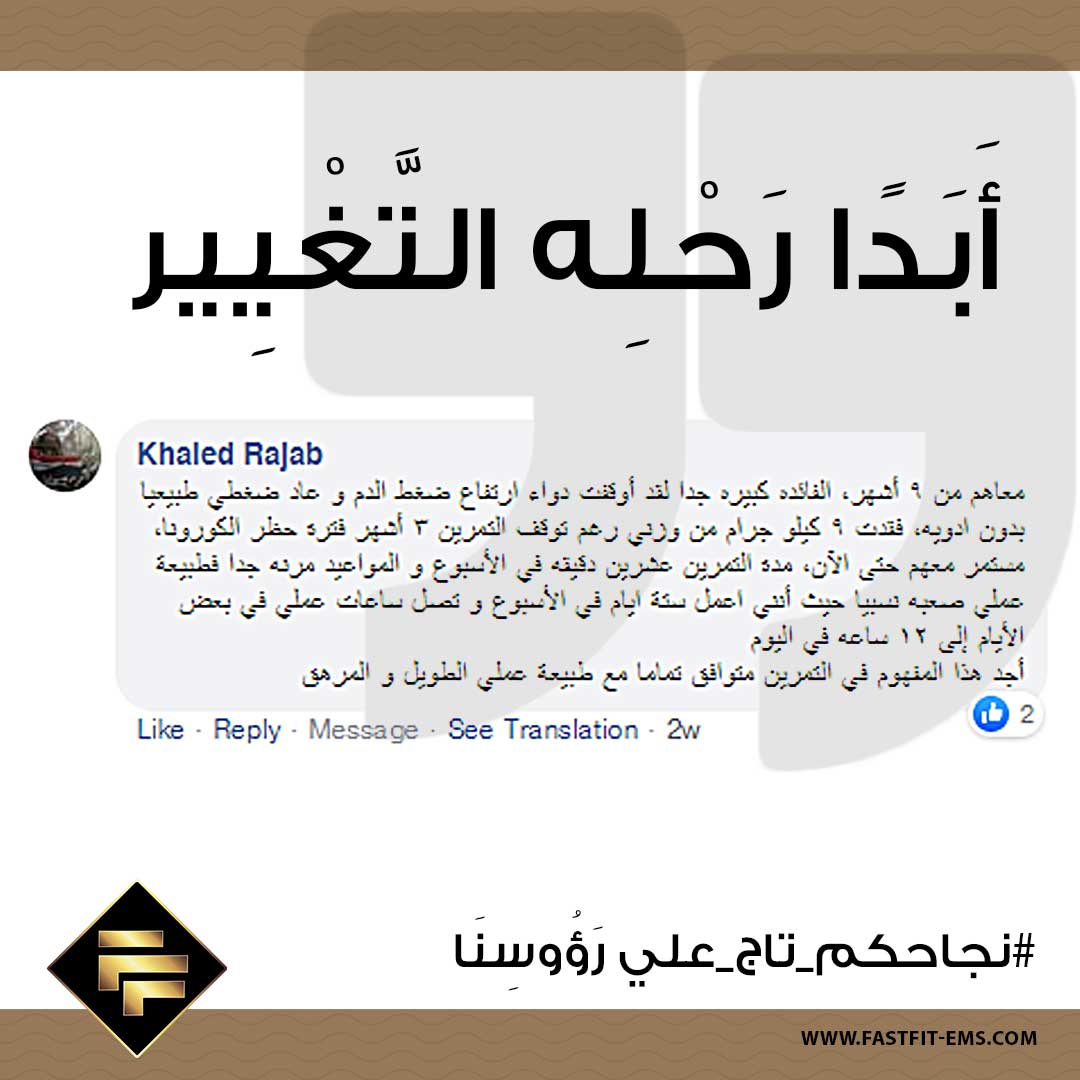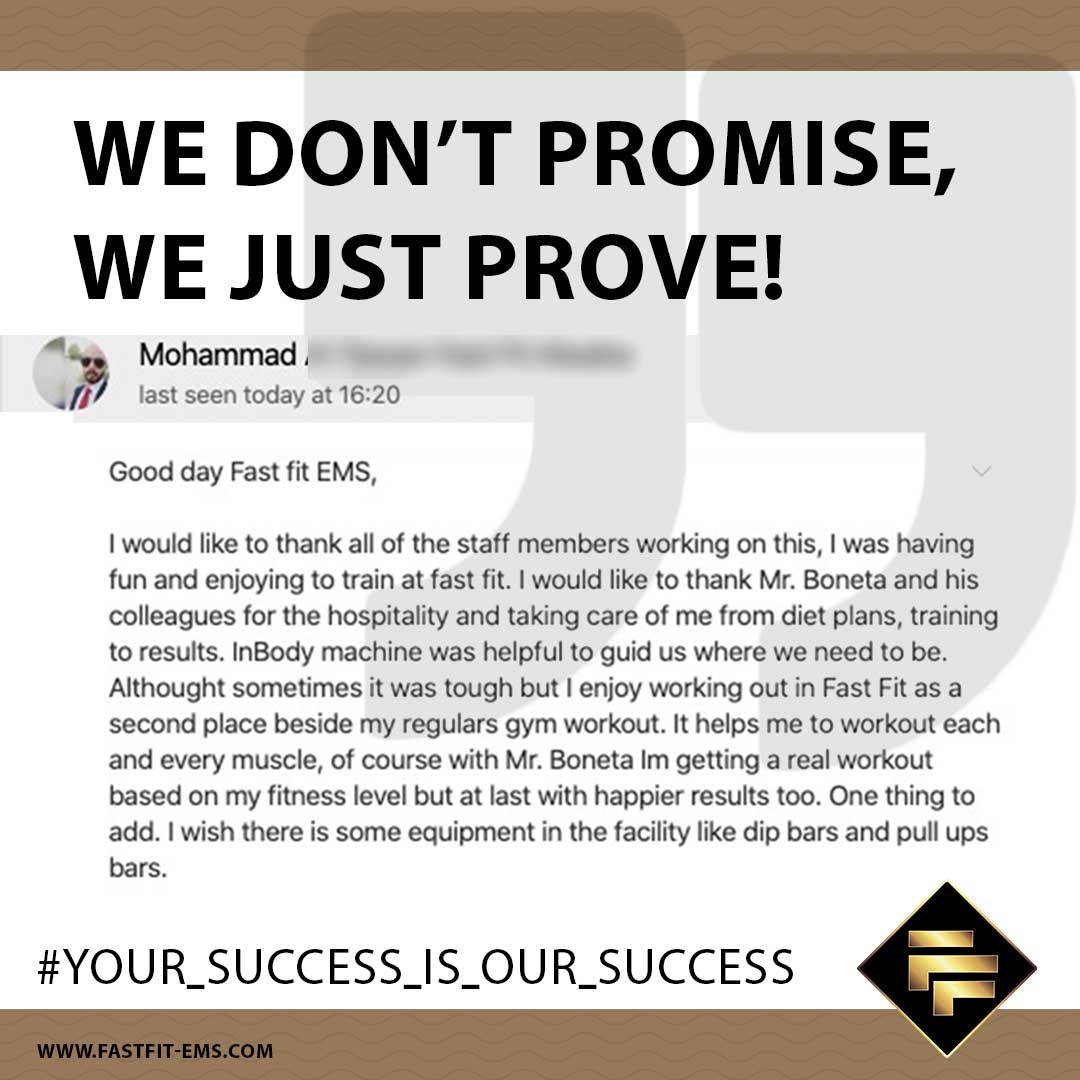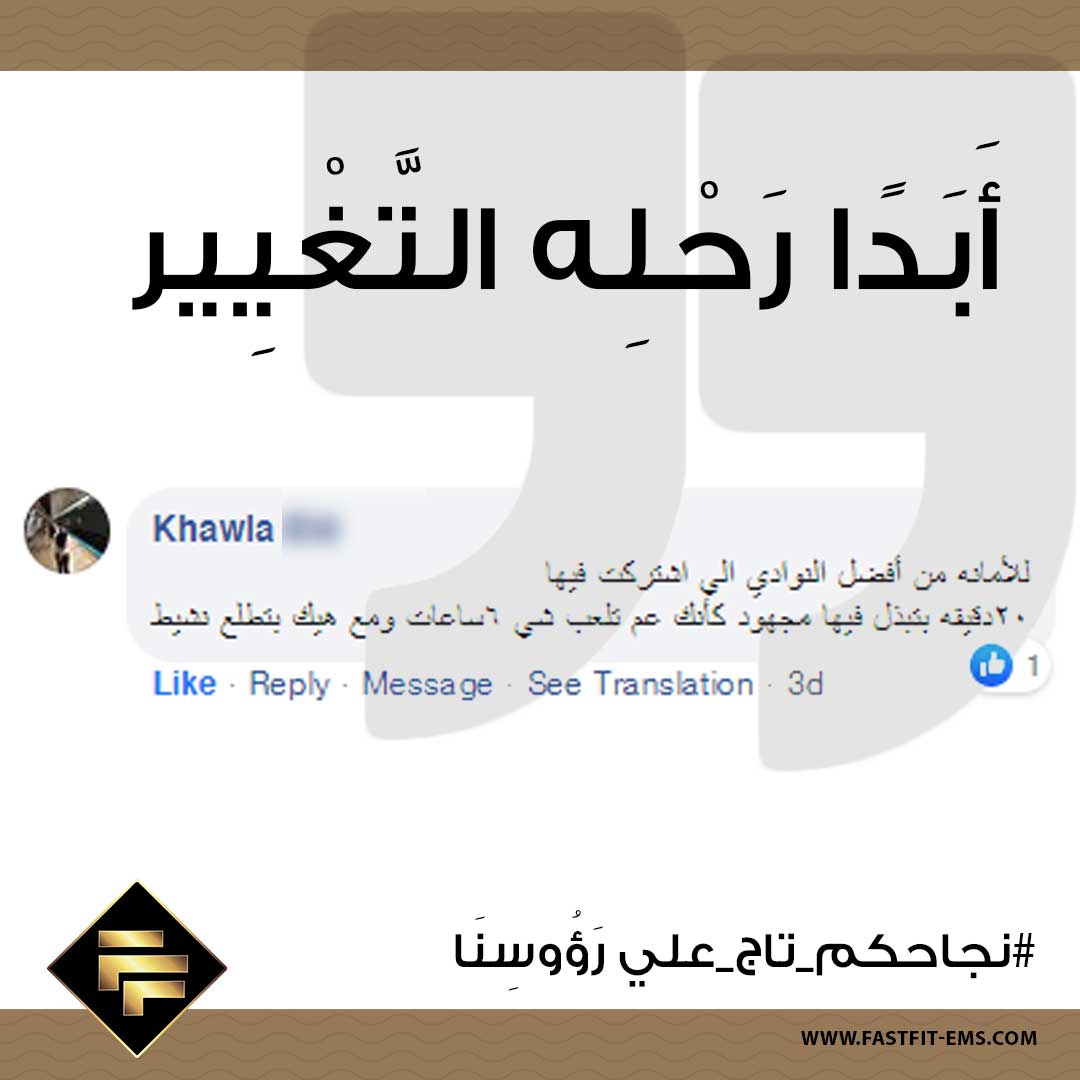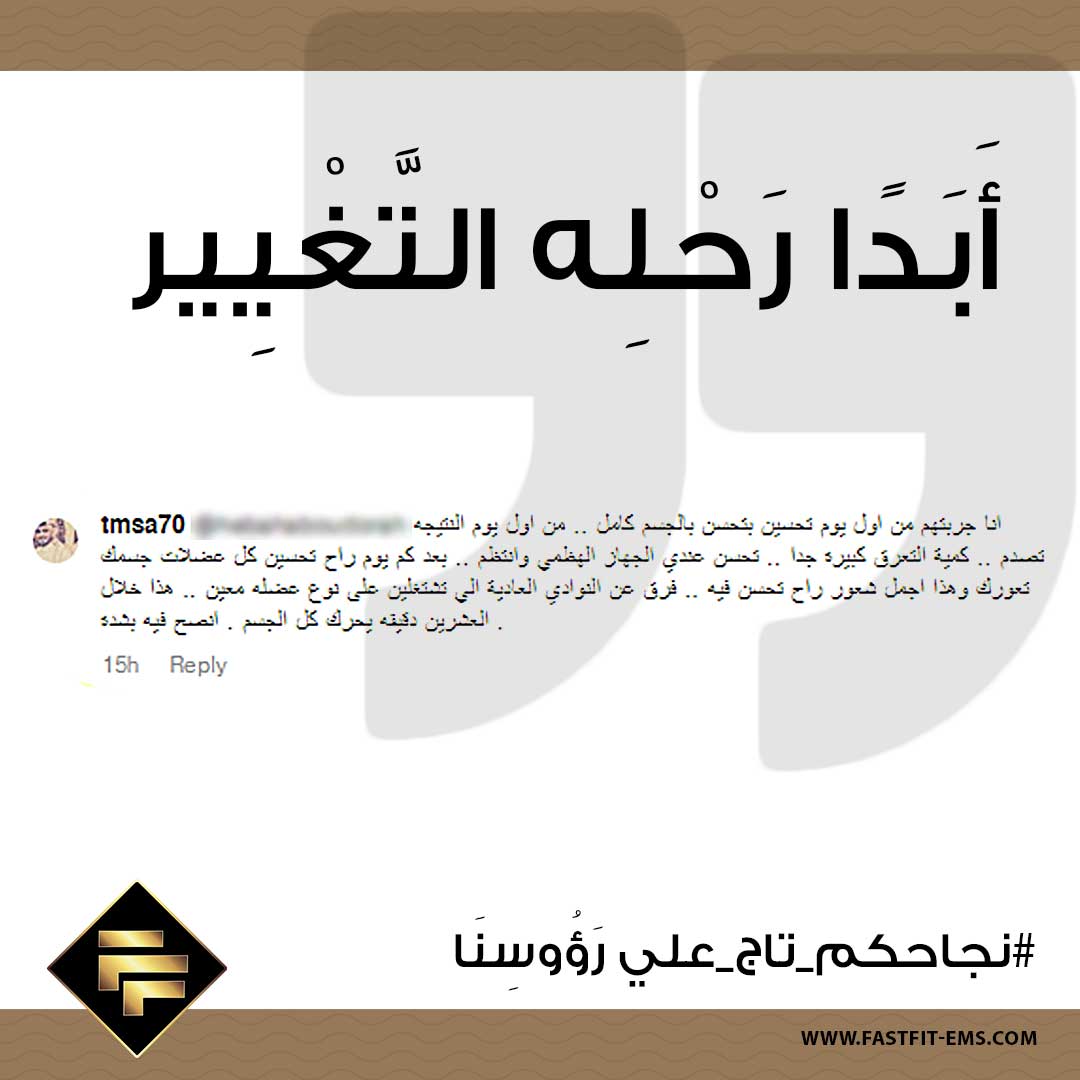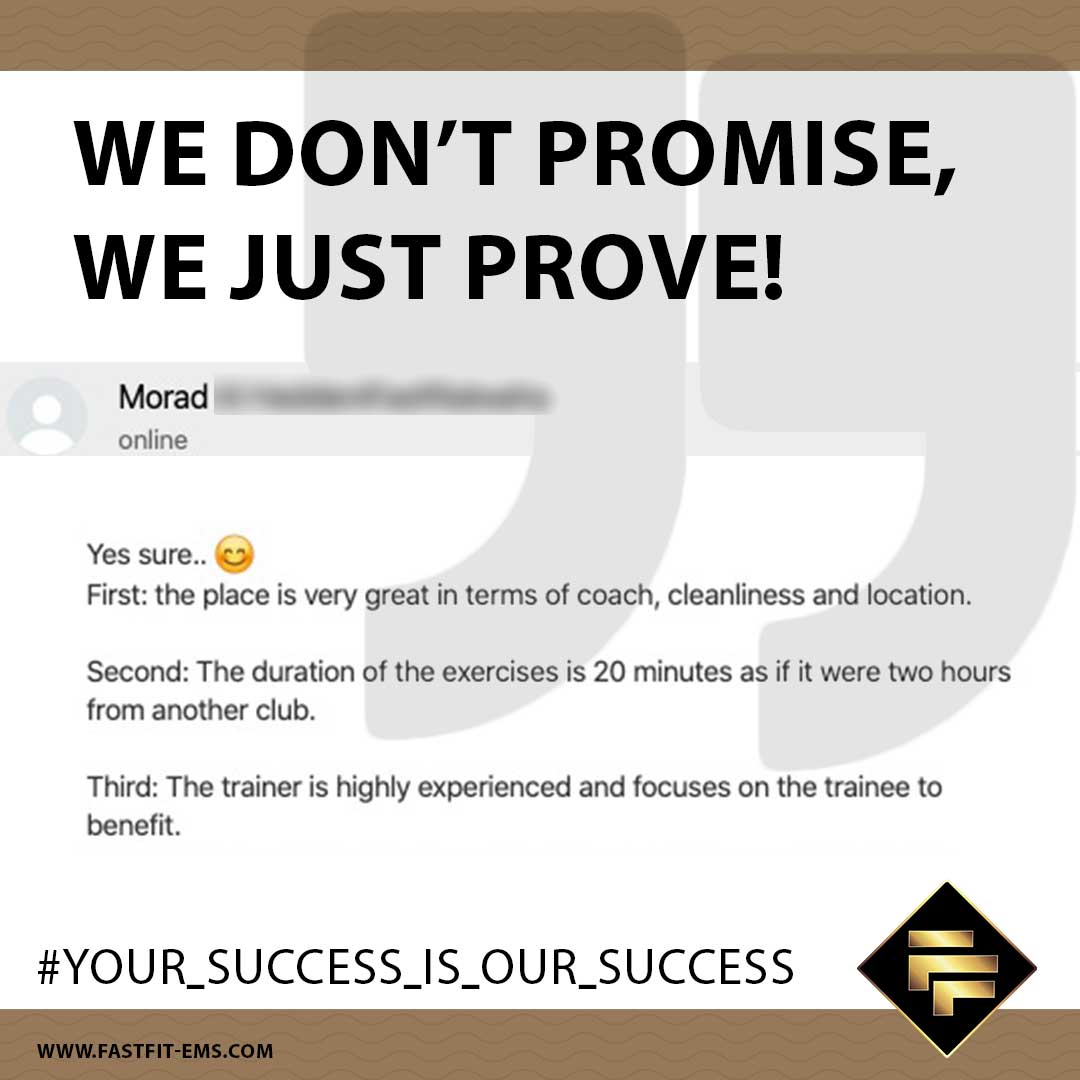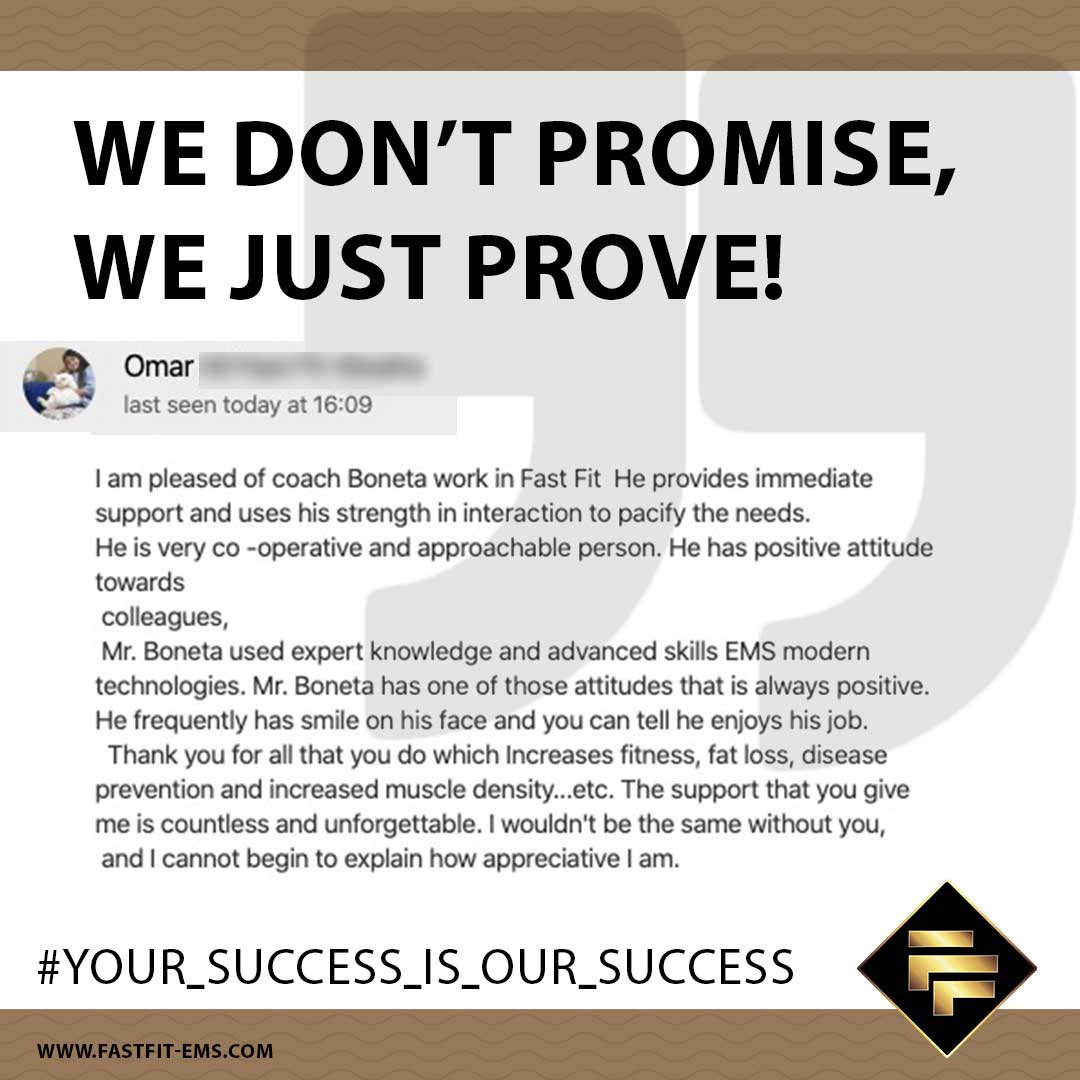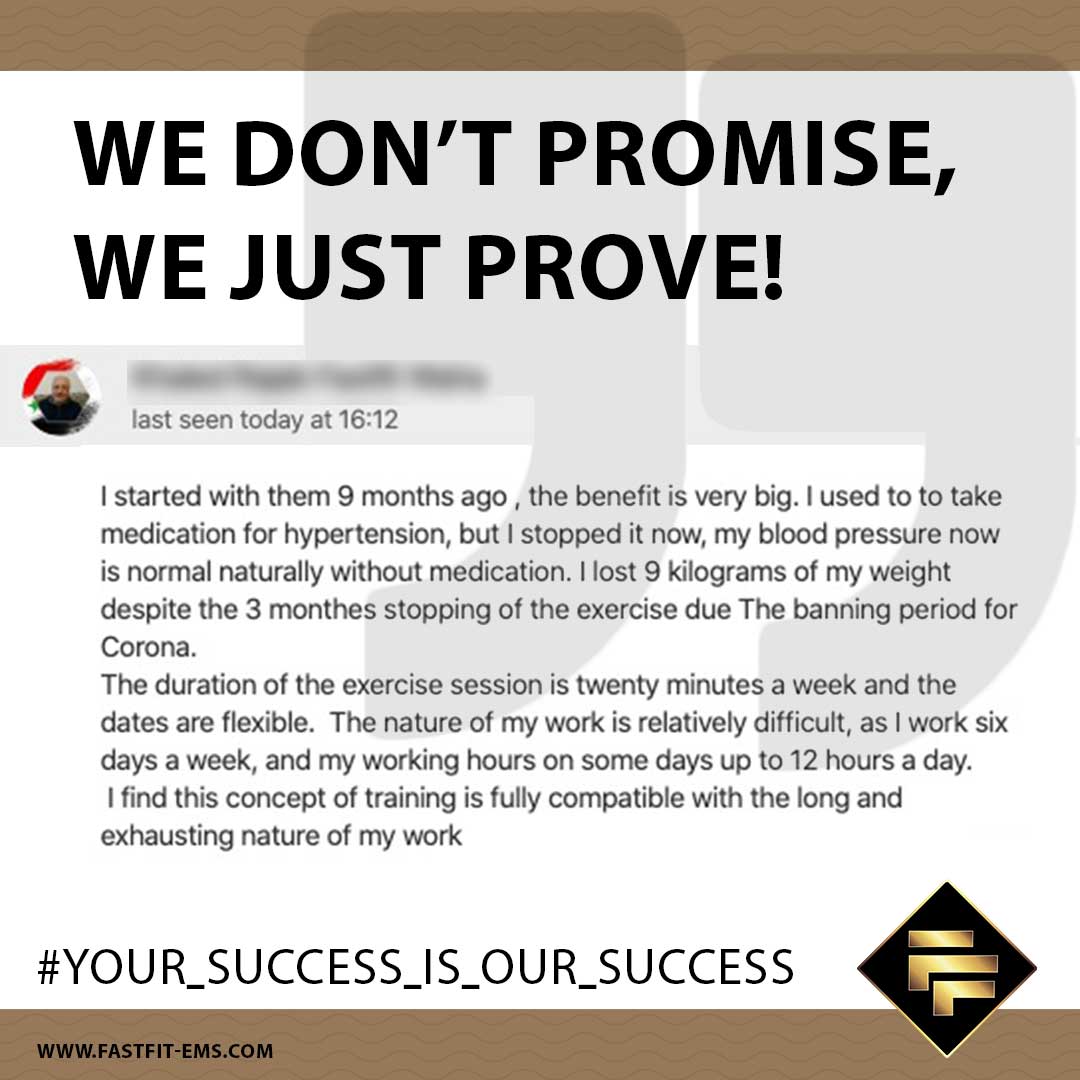 No More excuses with Fast Fit EMS
Benefits of Fast Fit EMS Training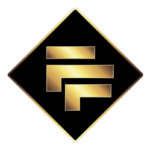 See the Fascinating Difference Fast Fit EMS Made in Peoples' Lives

Meet the people that achieved their fitness goals with Fast Fit EMS
6 times more effective than the regular gym training
Trusted by world-famous celebrities and athletes.
Fitness Tracker Included
with membership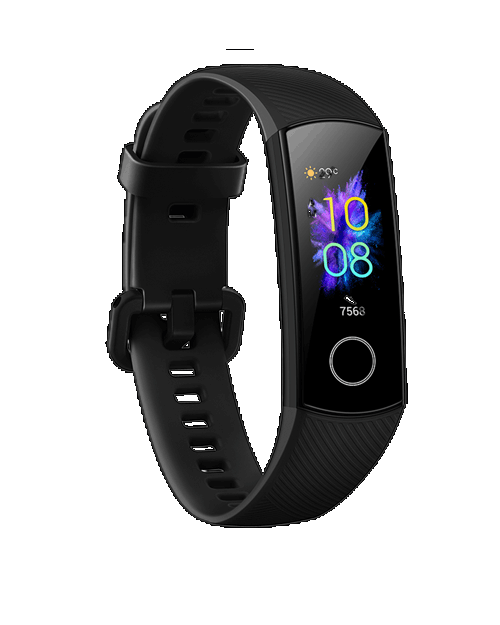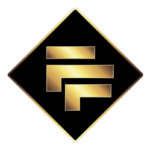 100% safe and effective workout
EMS is widely used in the training and rehabilitation of world-famous athletes in the USA and Europe. Think of your favorite athlete, they're probably using it too.
Scientifically Proven to Work
EMS heavily supported by medical researches from the German Sports University of Cologne, and the Heart Clinic in Bad Oeynhausen.


At Fast Fit EMS, we use high-end FDA approved devices that deliver safe low-frequency impulses that mimic the natural brain impulses that contract your muscles so you can move.
START WITH FAST FIT EMS INTRODUCTORY SESSION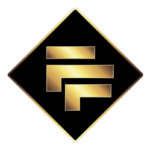 Learn more about our training from our clients by reading our reviews
4.6 Rating @ Google.com
Fast Fit EMS, Revolutionizing the World of Fitness in KSA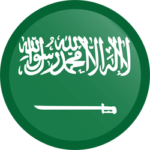 Watch stubborn fats melt off of your body after every session. EMS training spikes your metabolic level during and after the workout so you will continue to burn fat during the following week without doing anything. You'll see a remarkable decrease in fat and an impressive improvement in the overall shape of your body.
The intense stimulation of the EMS training activates 92% of your body muscles, targeting deep muscles that are hard to reach with conventional methods and growing your muscles fast. You'll have a noticeable increase in your chest, arms, and legs as you progress in your EMS training.
EMS improves your strength and overall performance by stimulating all big group muscles at the same time enabling your body to use 90% of its potential which strengthens your muscles significantly faster than conventional methods.
Sitting down at your desk or not being active for long periods of time is sure to have a negative effect on your back muscles causing nagging back pain.
Fast Fit EMS helps you strengthen the deep muscles around your spine which are difficult to reach using conventional training, leading to a fast back pain relief.
Watch What World-Class Experts Say About EMS
The Doctors discussing EMS on Rachel Ray
If you're going to start EMS training somewhere, make sure they know what they are doing" At Fast Fit EMS we're experts at what we do. Watch The Doctors be impressed with the effectiveness of EMS even with very simple exercises.
Doctors live EMS work out
Throughout your whole body, you really are working every muscle"
Watch Terra who had never worked out with a trainer before try EMS live for the first time with celebrity trainer Lacy Stone and how amazed she is by the revolutionary powers of EMS
Frequently Asked Questions
Get an answer to your most pressing questions about EMS
1) Why is EMS so effective?
During an EMS workout, over 90% of muscle fibers are contracted at the same time, including deep muscles that are difficult to target using conventional training methods. The intense muscle stimulation allows you to build stronger muscles fast and safely.
2) Is there scientific proof that EMS works?
Studies by Erlangen-Nuremberg (2009), the German Sports University of Cologne (2008), and the Heart Clinic in Bad Oeynhausen (2010) have all proven EMS training to be effective. Research from Bayreuth University in Germany reported the following results after a six-week training program: On average, 85% of people noticed an improvement in their body shape. Strength increased by 12% Endurance and fitness levels improved by 69%
EMS has been used for many years by world-famous athletes across the USA and Europe without causing any side effects. During your workout, you will experience small, low-frequency impulses that mimic the natural brain impulses that contract our muscles so we can move. EMS simply makes these impulses more effective by working on the muscles directly, preventing any pressure on the joints.
Not at all, the impulses are small and low-frequency. The feeling is best described as a gentle tingle. This can easily be adjusted by your personal trainer depending on your fitness level and goals. However, after the first workout sessions, you might feel regular muscle soreness but this is because your muscles will be working hard and it will go away as you become fitter.
5) What do I need to bring?
Just the desire to transform your life.
We will provide you with a special training outfit to wear during training, suitable footwear, a hygiene kit, and fully equipped showers.
6) How soon will I see results?
You will feel immediate results by working deep muscles in a more intense way than you have ever experienced before. After 2- 4 sessions you will start to see changes in your strength, posture and energy levels. After 4-6 sessions, you will start seeing visible improvements in your body shape.
Experience the Real Fitness Transformation
For just 249 SAR
Copyright©
FAST FIT EMS

2020 All Rights Reserved.